Iyengar Yoga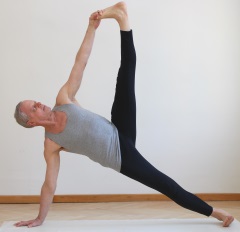 The term "Iyengar Yoga" was coined by students of B.K.S. Iyengar in order to differentiate this style of Yoga from other styles. Iyengar himself, however, once defined his style as "Patanjali Yoga" since he again and again and above all referred to the Yoga Sutra of Patanjali:
"What I do is pure, authentic and traditional Yoga! It is not correct to differentiate traditional Yoga from Iyengar Yoga or Hatha Yoga from Raja Yoga. There is only one Yoga!"
Practising asanas (physical postures) and pranayamas (breathing exercises) are central in Iyengar Yoga. Both in asanas and in pranayamas Iyengar reached a degree of subtlety and precision in correcting them that was not known before.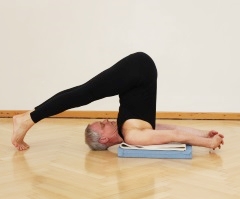 The Yoga postures are built up step by step and varied in such a way that they can be adjusted to the individual needs and possibilities of the practitioner. Particular attention is paid to the optimal alignment and placement of the areas of the body towards one another in the various positions. Upright postures, forward and back bends, side bends and twistings in standing, sitting, kneeling, lying and on all fours are practised in a balanced way just as dynamic sequences of movements, restorative and inverted poses. Regular practice in this way may improve or even enable to get rid of postural problems, which are often the cause of tensions and pain in the back or in the neck.
Another characteristic of Yoga in the Iyengar way is the use of various props: walls, ropes, blocks, chairs, cushions etc. which are used in various ways to release, open and support certain areas of the body or the whole of it. Props often allow a deeper letting go and bring relief in handicaps too.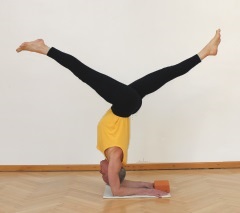 Practising asanas with attention and devotion raises the power of concentration and can become meditation. (Iyengar: "Asanas are my prayers!" and "Asana is meditation in action!")
Pranayamas (special breathing exercises) help to find inner balance and to calm down the mind.
---
B.K.S. Iyengar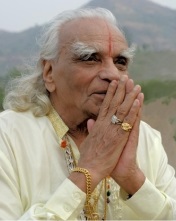 Bellur Krishnamachar Sunderraja Iyengar was born in 1918 in Bellur, a small town in southern India and died in 2014 in Pune. In his teens Iyengar took up Yoga practice in the Yoga school of his brother-in-law Tirumalai Krishnamacharya (1888-1989) in Mysore. As a young man Iyengar started to teach himself too. Krishnamacharya is known as the father of modern Yoga since he also taught other well known teachers such as his own son Desikachar, Pattabhi Jois, A.G. Mohan, Srivatsa Ramaswami and Indra Devi.
Iyengar´s friendship with Yehudi Menuhin, the famous musician, turned out to be very fruitful. They inspired each other a lot and through Menuhin Iyengar was invited again and again to demonstrate and teach Yoga in England and later on also in other European countries. Aldous Huxley, Krishnamurti and the Queen of Belgium became Iyengar´s Yoga students too.
Publishing "Light on Yoga" in 1966 and establishing his Yoga Institute in Pune in 1975 contributed enormously to spreading his method of teaching Yoga. Gradually more and more of his students were empowered by Iyengar to teach his style of Yoga all over the world.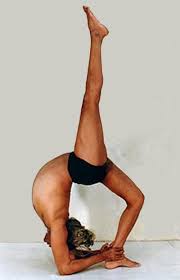 Iyengar´s books "Light on Yoga", "Light on Pranayama", "The Tree of Yoga" and "Yoga - the Path to Holistic Health" have been translated into many languages and have become outstanding among modern Yoga literature.
After many decades of intensive Yoga practice and teaching experience B.K.S. Iyengar became one of the most prominent figures of modern Yoga in the world. Nevertheless Iyengar remained down-to-earth and said: "I am only a child in Yoga!"

"My ending should be your beginning!" B.K.S. Iyengar

More about B.K.S. Iyengar: www.bksiyengar.com


---
Recommended Books
BKS Iyengar: Yoga Wisdom and Practice (2009)
BKS Iyengar: Light on Life (2005)
BKS Iyengar: Yoga - The Path to Holistic Health (2001)
BKS Iyengar: Light on the Yoga Sutras of Patanjali (1990)
BKS Iyengar: The Tree of Yoga (1988)
BKS Iyengar: Light on Pranayama (1984)
BKS Iyengar: Light on Yoga (1966)
Geeta S. Iyengar: Yoga - A Gem for Women (1983)

The Path of Modern Yoga - The History of an Embodied Spiritual Practice, Elliot Goldberg (2016)
Yoga Body: The Origins of Modern Posture Practice, Mark Singleton, 2010
Luise Wörle, Eric Pfeiff: Yoga As Therapeutic Exercise (2010)
Georg Feuerstein: The Yoga Tradition (1998)
Suza Francina: The New Yoga for People Over 50 (1997)
Janet Balaskas: Preparing for Birth with Yoga (1994)
Desikachar: The Heart of Yoga (1995)
Vanda Scaravelli: Awakening the Spine (1991)
Silva, Mira, Shyam Mehta: Yoga - the Iyengar Way (1990)
Erich Schiffmann: Yoga - The Spirit and Practice of Moving into Stillness (1996)
Jean Couch: The Runner's Yoga Book (1990)
Donald Moyer: Yoga: Awakening the Inner Body (2006)
Mabel E. Todd: The Thinking Body (1936)